Academic Solutions
·
Article
Campus Spotlight: Equitable Access at Muskingum University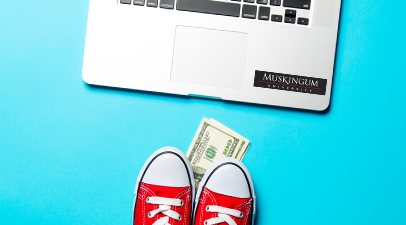 May 4, 2022
By this fall, Barnes & Noble College (BNC) will have rolled out First Day® Complete—our equitable access approach to course material delivery—on more than 70 campuses, benefiting 500,000 students nationwide. Recently, we spoke with Philip Laube, CPA, the Vice President for Finance & Operations and Treasurer at Muskingum University, to break down the university's first semester on the program. He shared his thoughts on why the program offered a valuable solution for the university, initial insights and feedback from faculty and his approach to championing equitable access to his peers in finance.
Preparing Students for Class
Muskingum University is a small, private university located in eastern Ohio. The university makes a concerted effort to serve students who have significant financial need, and more than 40% of Muskingum students are eligible for Pell Grants. Before adopting First Day Complete, students not having their books – and therefore not being prepared for class – was a significant challenge.
"We had students who would come to campus hoping they'd figure out how to make the money work. They would try to get by without books or look for cheaper options that would arrive late – and might not even be the right edition," said Laube. "When we looked at how we wanted to prioritize our resources going forward, course materials rose to the top of the list."
First Day Complete allows institutions to bundle course material costs into tuition or apply as course charges. The program ensures all students receive all required course materials by the first day of class while enjoying highly personalized concierge service. The scale of the program also means students save an average of 35-50% across their academic journey. Muskingum decided not only to implement First Day Complete, delivering greater ease and convenience, but also to cover the cost of course materials for students.
"First Day Complete means students have one less thing to worry about. We've heard the same thing from advisors, financial aid staff and many other colleagues focused on student success:
this program is a relief for students," said Laube.
Creating Opportunities for Faculty
Faculty also appreciated the ability to start teaching right away, using the course materials more comprehensively in class and bringing along all students at the same pace.
"More than one faculty member has come and thanked us for the program," he added. "Faculty will always have questions, but once we explained the program, they were incredibly excited. They wanted to know how it worked and to explore new ways to integrate course materials in their classes. Some looked into the advantages of using digital course materials for the first time, which they may not have done otherwise."
One professor shared early observations about the impact of First Day Complete based on her data and experiences. "In one course, she chose to adopt digital course materials and saw that most students were using the assigned textbook. Across two sections of the course, 94% of students finished with a C- or above, an improvement from previous semesters," said Laube.
"I also appreciated what this professor shared about the faculty experience of using digital course materials," he added. "She found the integration into our LMS to be easy – and she taught differently as a result of adopting the digital materials. She felt that she used them more intentionally in creating assignments. While this is just one piece of anecdotal feedback, it's instructive to learn more about the positive impacts and ripple effects of the First Day Complete program."
Improving Outcomes for All
As Muskingum wraps up its first year with First Day Complete, Laube expressed that he will continue to champion equitable access as a win-win situation across the industry. "This is everyone's mission in higher education – to help people succeed. I tell my peers in finance that yes, there's a cost. But course materials are a necessary tool to complete class," he said. "If your students are more successful, they stay. The demographics are changing – how are we addressing that? Well, if we all increase retention and graduation rates, enrollment goes up without having to recruit new students."
"This is a passion for me. I'm in higher education because I like making an impact on young people's lives," Laube added. "This is our future – why wouldn't we want to help them be successful in every way possible?"
For additional information and perspectives on First Day Complete, watch our video. To learn more about how you can deliver greater access, convenience and affordability on your campus, contact us.
More Insights
Academic Solutions
· Article
The First Day® Complete Impact at EKU
Eastern Kentucky University's Chief Auxiliary Services Officer, Steve Caudill, discusses the impact of First Day® Complete on EKU's students.