College Insights
·
report
College 2030™
The COVID-19 pandemic has accelerated higher education's transformation, pushing us forward at warp speed. This is the greatest challenge higher ed will face in our lifetime, but it's also its greatest opportunity for growth and improvement.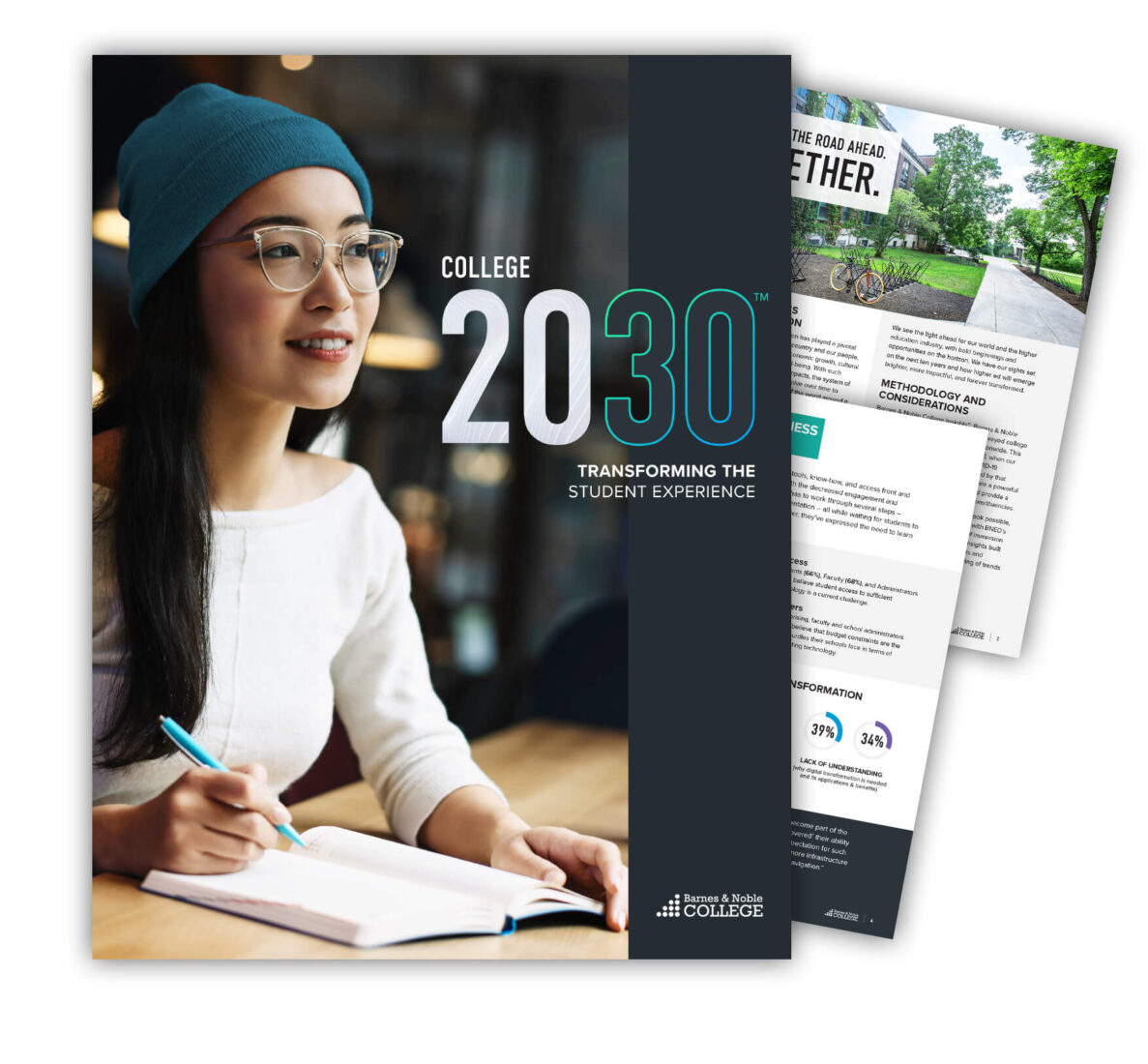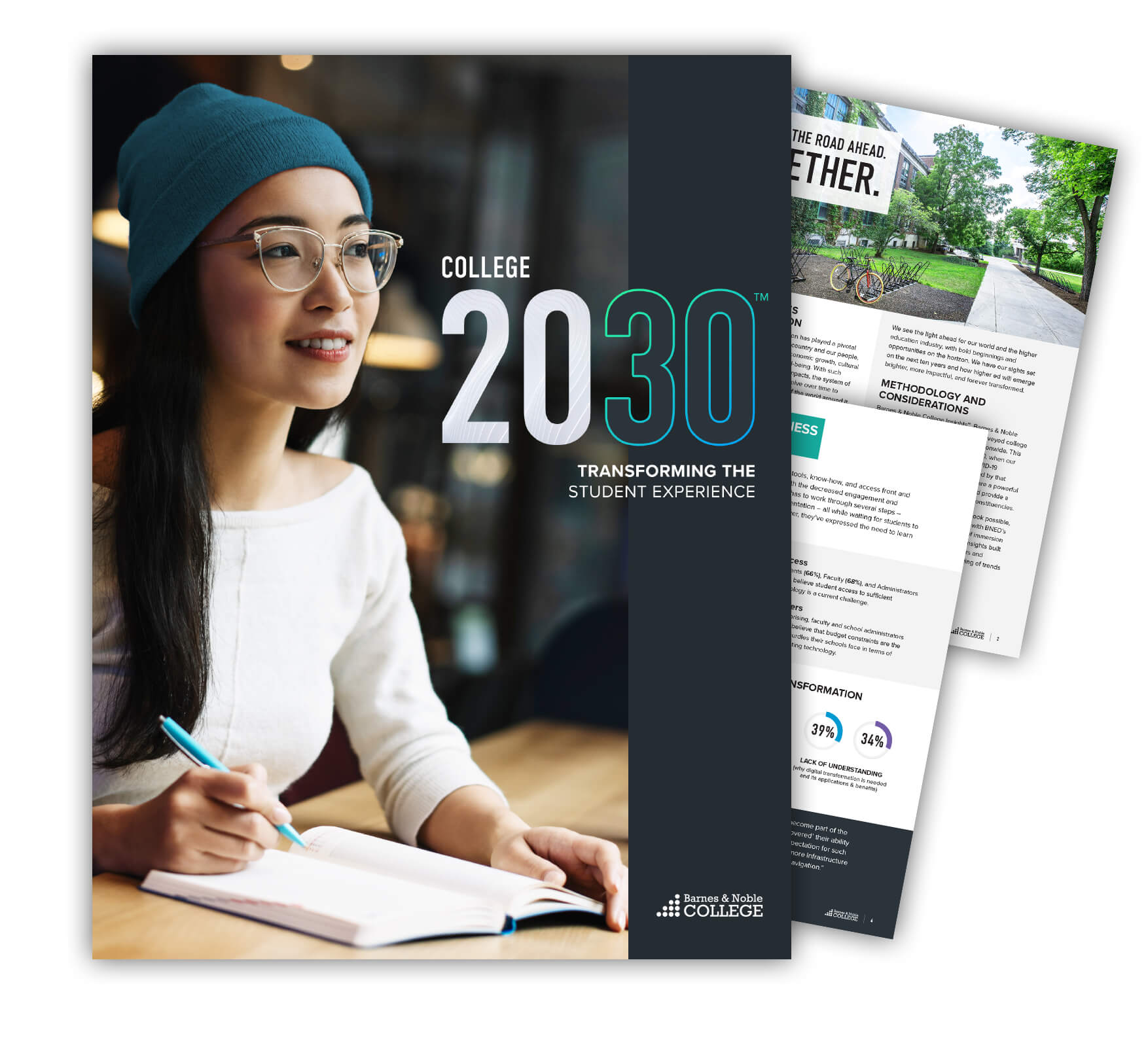 Transforming the Student Experience
Barnes & Noble Education is proud to provide data-driven insights to our partners as they move ahead to drive greater success for students, faculty and institutions.
This report provides a snapshot of the current state of higher education and what we're learning, as well as our outlook for the next decade.
DOWNLOAD THE REPORT
What you'll learn in this report
Re-engineering outdated modes to craft a personalized environment based on how students learn.
Aligning with new needs and priorities that have come to the forefront during the pandemic.
SEAMLESS CUSTOMIZED EXPERIENCE
Creating a holistic life services model that all students can access at every touchpoint of their college journey.
Personalization and Flexibility Are Key To Student Learning.
Acknowledging that all students don't learn in the same way or at the same pace, and that many now have new work and family responsibilities due to the pandemic, is calling for schools to accommodate those differences with more flexible learning options, tools, and measurements.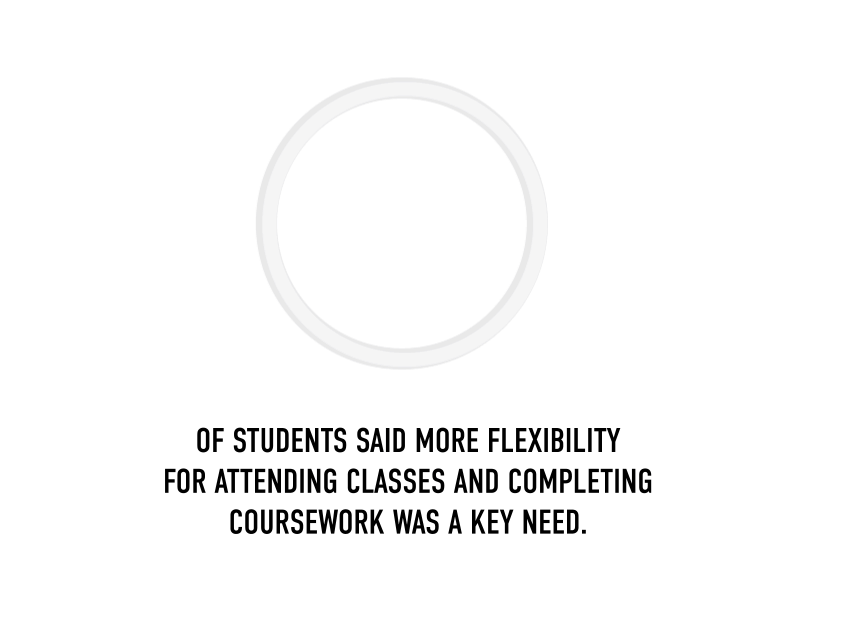 "The pandemic did not change the path for higher education, but it did change the speed at which we're traveling on that path. Within the next 10 years, we will see a transformation of the student experience – from admissions through graduation – and a shift towards lifetime learning."
– Michael P. Huseby, Chief Executive Officer and Chairman, BNED

Students Want More Holistic, "Life" Services
They're looking for practical skills to enable lifelong learning and growth.
50%
of students agreed that their professors understood how their generation learns and adapts their lessons accordingly
Join the #COLLEGE2030 Conversation
Download the COLLEGE 2030™ Report