Academic Solutions
·
Article
Campus Well-Being Q&A with Melissa Bernstein: Co-Founder of Melissa & Doug, and Co-Founder of Lifelines
September 14, 2023
College students are seeking out tools to help address stress and anxiety – and create paths to greater self-care. To spark conversation on how institutions and their campus stores can help, Barnes & Noble College is hosting a webinar, Supporting The Well-Being Of Your Campus Community, on Wednesday, September 27, at 2 p.m. EST. It will feature a discussion panel of institutional partners and well-being experts. Register now!
In advance of the webinar, Melissa Bernstein sat down with BNC to discuss the importance of tools that bolster physical, emotional and mental well-being. She offers insights on how the Lifelines collection, part of Be Well. Be You.™ by Barnes & Noble College, can provide instruments and strategies to help well-being.
How did your experience as a college student inform the way you look at well-being? What do you want to be better for today's students?
When I went to college, I untethered from pretty much anything that brought me joy and locked into social and academic performance, as I think so many students do. Those are two extrinsic things. I lost sight of anything that touched my soul. And when both of those didn't go quite the way I had expected, which was utter and complete perfection, I just crumbled.
I somehow ended up getting through, but it shouldn't have to be that way, right? Students shouldn't have to suffer a complete and utter sense of being alone, being isolated, not having anything that brings them comfort or joy. None of us should experience that. So, it has been my life's mission and vision to create a practice for myself that gives me the tools to bolster my physical, emotional, mental, and spiritual well-being – and help others do the same.
As a parent to children in college today, do you think campus resources have improved since you were a student?
There is tremendous improvement. If students fall into an acute state, the resources are there. However, the academic pressures haven't changed. In a recent survey, three in four students say that stress is negatively impacting their ability to focus, learn and do well in school. And we know from BNC's research that 83% of students report experiencing feelings of significant stress or anxiety during the semester. Yet, we're not talking enough about developing tools ahead of time. The scaffolding is there if students fall below the line, but we should talk more about how to help them start with a strong practice for well-being.
We need to help them understand where they make their meaning – which transcends academic and social performance – and try out different tools to support their well-being, to find what works for them. They'll still go through the ebbs and flows of life, of course, because we all do. But, if they have a toolbox they can open when they recognize that they're going into a low period, they can take out a tool they know will bolster them. They can build their own scaffolding for support in those low times before they reach an acute state.
How did the Lifelines collection come to be – and how can the products serve as tools in the well-being toolbox?
I had an epiphany one day when I was out in nature – I was able to get out of my own head by seeing the birds flying, feeling the breeze on my face, smelling the lilacs. And it led me to ask … if we all are born with these six senses (including imagination, the mind's eye), why have we as a society become so desensitized? Why aren't we harnessing the power of our senses more, when they're the body's most effective stress relievers?
So, we designed tools, backed by science, to help people disrupt their stress responses and achieve equanimity. Things like grounding stones to engage the sense of touch and essential oils to engage the sense of smell. The Lifelines collection includes products to help manage stress, strengthen focus and motivation, and act as catalysts for joy and creativity. These products are not a panacea, but they are tools anyone can use in their well-being practice. And a fun way to infuse well-being into all areas of life!
Why is it important for everyone to be mindful of their well-being – including faculty, administrators, staff, parents, alumni and other members of the campus community?
The great news is that there's no difference for students or people at other stages of life. Well-being is well-being. We can adopt a practice at any point in our lives. For all of us, it's about taking stock of where we are now – physically, emotionally, mentally, and spiritually. It's looking at ourselves holistically.
Are we taking care of our physical well-being? If not, what can we do? Are we taking care of our mental well-being? Are we stuck in the past or the future ruminating all the time? Are we making a true connection to ourselves and then to others? And then lastly, are we truly thinking about how we want to serve humanity? Are touching people in the way we want and are we having enough joy in our lives? Are we playing enough in our lives? I talk about it the exact same way. There's absolutely no difference. It's just when you develop a practice and start using those tools.
Register today to join Melissa Bernstein and other well-being experts and institutional partners in our upcoming webinar, Supporting The Well-Being Of Your Campus Community, on Wednesday, September 27, at 2 p.m. EST.
Visit Lifelines.com for more information on the collection and bncollege.com to learn more at Be Well. Be You. Contact us to learn how BNC can support well-being and create differentiated retail experiences for your campus community.
More Insights
Academic Solutions
· Article
The First Day® Complete Impact at EKU
Eastern Kentucky University's Chief Auxiliary Services Officer, Steve Caudill, discusses the impact of First Day® Complete on EKU's students.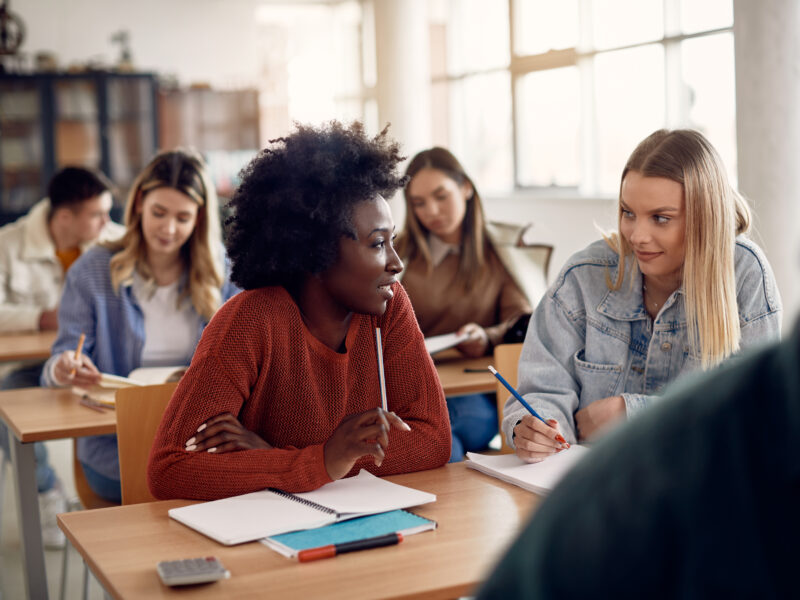 Academic Solutions
· Article
Positive Student Feedback: First Day Complete 
Students confirm that First Day Complete helps them be better prepared for class (86%), has a positive impact on their success (83%) and helps them get better grades (75%).