Our Company & Mission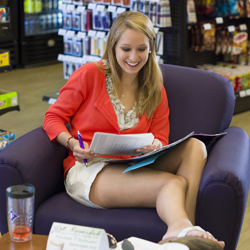 Barnes & Noble College is the country's leading college campus store operator, with a diverse range of campus partners across the country, which includes public and private universities, community colleges and law, medical and specialty schools. We pride ourselves on our dedication to providing superior service and selection.
Our mission is to create campus stores that are focal points for college life and learning, enhancing the educational mission of the institution, enlivening campus culture and delivering a strong and consistent revenue stream to our partner schools.
We are investing in technology and leading the industry to bring our customers new options, including digital products, devices and unique services. We support our operations with a broad range of resources, from highly skilled store managers to creative marketing specialists and the industry's leading vendors.
Microsoft Corporation has formed a strategic partnership with Barnes & Noble - making an initial $300 million investment in our NOOK® digital business and college stores.