Textbook Solutions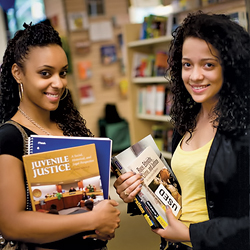 When it comes to textbook solutions, no one meets colleges and universities' needs better than Barnes & Noble. We understand students and their purchasing and learning behaviors, and it's reflected in the solutions we offer.
We were the first to offer in-store and online textbook rentals, and first again when it came to digital. Our NOOK Simple Touch™, NOOK Simple Touch with GlowLight™, and all-new NOOK HD and NOOK HD+ are four of the top-rated eReading devices on the market, and NOOK Study™ – our free integrated eTextbook reader and study platform – is far more than an eReader. It features a powerful set of study and organization tools that is revolutionizing the learning experience for students and faculty.
We have our finger on the pulse of the ever-changing shopping and learning trends among college students. They need access to the latest and most forward-looking solutions that make learning affordable and convenient. Rental, used, digital, new, and custom texts are just the beginning.
With our wide range of format and purchasing options, your students' educational content needs will always be met.
Textbook Rental Program

Our textbook rental program is extremely popular with students across the country. Up to 90% of all titles are available for rent - with students chosing the rental option 40% of the time. Students have also rented more than 2.5 million individual units and saved nearly $250 million through the spring of 2012. And 99% of students polled said they would rent again from their campus bookstore. But it's not just students who benefit. Schools that offer rentals keep more textbook dollars on campus. More »

Registration Integration

An innovative system that links the school's course registration site with the bookstore's website, Registration Integration lets students order textbooks online at the same time they register for courses.

Cash For Books

Our Cash For Books program pays students up to 50 percent for their unwanted textbooks. On many campuses, students can even sell back their textbooks at remote buyback sites across campus at the end of the term.

FacultyEnlight

By using extensive faculty insights as the foundation, we are delivering a textbook adoption experience like no other. Our new online community, FacultyEnlightsm, combines search capabilities with product reviews and an engaging way for faculty to discover, adopt and deliver their course materials.

Course Packs/Custom Textbooks

Many faculty members today prefer creating their own textbooks, integrating their work with existing material. So we've partnered with XanEdu – the leading provider of course packs and custom textbooks – to offer attractive compilations, quickly and conveniently.

NOOK Press™

With Barnes & Noble's NOOK Press™, self-publishing is at your fingertips. The innovative self-publishing platform offers students, faculty and other aspiring authors a fast, easy and free way to write, edit, collaborate and publish the highest quality eBooks and directly distribute them to millions of avid readers. Authors simply upload their books, set a price and track sales activity.

Distance Education

Our exceptional e-commerce technology means that the world is your campus. We offer distance education students the same level of service and support as their on-campus student counterparts. So from studying abroad to learning at home in virtual classrooms, off-campus students receive materials as quickly and conveniently as possible.

Student Financial Aid

We provide a sophisticated, proprietary Student Financial Aid (SFA) platform that leverages cutting-edge technology to simplify the management of financial aid transactions – making it simple for students to get the materials they need and easy for administrators to work with us. Our platform works seamlessly with every financial aid system and all types of financial aid. More »