360 Marketing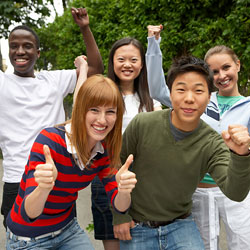 Continuing advances in technology have caused a dramatic shift in the world of marketing and communications – and nowhere is that more evident than with today's college students.
At Barnes & Noble, we're connecting with a new generation of customers – on their terms. Our comprehensive marketing plans tap into what makes students tick, including both traditional and cutting-edge tactics such as e-mail marketing and social media.
Our marketing to college students strategy reflects the diverse campus communities that we serve, and from extensive in-store initiatives to student brand ambassadors, our programs deliver results.
Facebook

We continue to drive social media innovation, like with our Top Fan Sweepstakes contest on Facebook where students were asked to "like" us on Facebook for a chance to win $1000 towards textbooks.

Twitter

Barnes & Noble College recently held a Twitterview (a real-time interview via Twitter) with the charming and debonaire '007' Sir Roger Moore. The actor was promoting his new book, Bond On Bond: Reflections on 50 years of James Bond Movies.

In-Store Events

Ice hockey legend Bobby Orr promoted his autobiography, Orr: My Story, at the Harvard COOP. Fans lined up for hours before the event for a chance to meet one of the greatest hockey players of all time.

Excellence in Overtime

After barely making the 2011 NCAA men's basketball tournament, Virginia Commonwealth University rammed its way through to the Final Four – creating an unprecedented demand for VCU and NCAA tournament gear. We had the infrastructure in place to produce large supplies of VCU Final Four merchandise on a moment's notice, resulting in over $1.3 million in March Madness merchandise sold at VCU's Barnes & Noble bookstore.