NOOK Study – Power Your School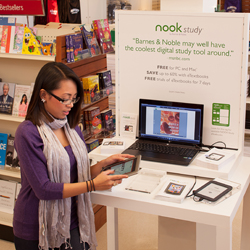 We are setting the digital standard with innovative platforms that optimize the learning experience.
NOOK Study
Designed with input from students and faculty, NOOK Study™ – the industry's #1 eTextbook reader and study platform – features an enhanced teaching and learning experience with a powerful set of study and organizational tools that enable students to study smarter.
With NOOK Study, your students and faculty can import/export notes; highlight and tag text; search the Internet directly from the text; create links to notes, handouts or pages; open multiple textbooks simultaneously and much more.
Powering Your LMS
Based on extensive research with students and faculty, key factors for learning management systems (LMS) usage are the ability to save students money and textbook integration. NOOK Study easily integrates into the most popular LMS, including Blackboard Learn, Moodle, Sakai and Desire2Learn. By integrating NOOK Study into your LMS, your faculty and students can easily purchase their digital materials from your system; organize their course material; better communicate with each other by sending links, assignments and passages from the text; and much more to enhance academic success and keep valuable textbook revenue on your campus.
NOOK Simple Touch™ with GlowLight™

Unbeatable value: "2 Readers in 1″ – Best of E Ink & Lit Display – Amazing in bed and at the beach
Breakthrough technology creates a soft glow optimized for low light reading and bright sunlight
Exclusive Best-Text™ & adjustable fonts make words crisp & clear
"There is no better e-ink model than this new glowing NOOK." – The New York Times
 

NOOK HD+ Slate 16GB

NOOK HD Snow – 8GB

NOOK Simple Touch

"Best e-ink reader" – CNET, 06/01/2011

NEW! Best–Text™, ultra-crisp, reads just like paper – even in bright sun
NEW! Longest battery life – read for over 2 months based on a half hour of daily reading
Over 2.5 million books, get them in seconds w/ built-in Wi-Fi®
No annoying ads
Always free NOOK support in-store
Borrow books from your public library