Digital Learning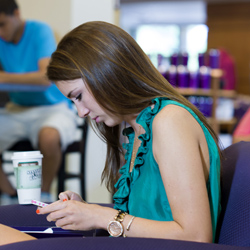 More and more students and faculty are shifting to eTextbooks to save money and experience a rich new world of learning.
As the digital shift continues, your college or university store needs to be on the cutting edge, providing superior digital offerings that meet their needs. But it's more than just devices and gadgets. What's needed is an evolving digital solution that not only provides value, but enhances the teaching and learning experience in and outside of the classroom.
We offer exactly that.
Barnes & Noble's heralded NOOK Study™ – a free, integrated eTextbook reader and study platform – is revolutionizing the way students learn. From rich, full-color displays to interactive features that help users stay organized, focused and productive, NOOK Study puts students and faculty ahead of the learning curve – and your store ahead of the sales curve – as the source for digital content.
In addition, the incredible features and value of our award-winning NOOK reading devices and digital resources, like our PubIt! self-publishing application, mean Barnes & Noble is on the leading edge of the digital revolution.
NOOK HD+ Slate 16GB

NOOK HD Snow – 8GB

NOOK Simple Touch™ with GlowLight™

Unbeatable value: "2 Readers in 1″ – Best of E Ink & Lit Display – Amazing in bed and at the beach
Breakthrough technology creates a soft glow optimized for low light reading and bright sunlight
Exclusive Best-Text™ & adjustable fonts make words crisp & clear
"There is no better e-ink model than this new glowing NOOK." – The New York Times
 

NOOK Simple Touch

"Best e-ink reader" – CNET, 06/01/2011

NEW! Best–Text™, ultra-crisp, reads just like paper – even in bright sun
NEW! Longest battery life – read for over 2 months based on a half hour of daily reading
Over 2.5 million books, get them in seconds w/ built-in Wi-Fi®
No annoying ads
Always free NOOK support in-store
Borrow books from your public library