Digital Learning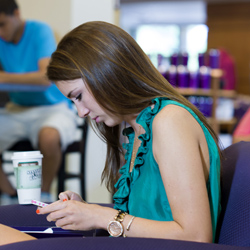 More and more students and faculty are shifting to eTextbooks to save money and experience a rich new world of learning.
As the digital shift continues, your college or university store needs to be on the cutting edge, providing superior digital offerings that meet their needs. But it's more than just devices and gadgets. What's needed is an evolving digital solution that not only provides value, but enhances the teaching and learning experience in and outside of the classroom.
Yuzu™
Students and faculty can choose from our robust, academically-oriented digital library for all their course material needs. In fact, thirty percent of all titles adopted by faculty are available on Yuzu, which is typical of the industry. We continue to work closely with our publisher partners to continue to expand our digital

catalog. Yuzu by Barnes & Noble lets you organize, read, and annotate your textbooks right in the palm of your hand—making the experience of learning simple, gratifying, and much easier on your back.