Maximizing Revenue and School Pride
VCU Wins Big with Barnes & Noble During Final Four Run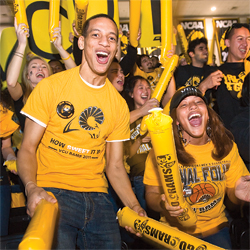 Challenge
Nestled in the heart of downtown Richmond, Va., Virginia Commonwealth University (VCU) is Virginia's largest university with more than 32,000 students on two urban campuses. When the men's basketball team made an epic run during the 2011 NCAA men's basketball tournament, Barnes & Noble College was along for the ride.
After barely making the tournament, VCU rammed its way through the Sweet 16, Elite Eight and Final Four, becoming only the third No. 11 seed in history to make it to the Final Four. This created a feverish fan base among students, alumni and the Richmond community as a whole.
With the team taking the sport world by surprise, the big question for VCU Rams fans became clear – where were they going to get their VCU and NCAA tournament gear? The answer was obvious – Barnes & Noble.
Solution
Barnes & Noble has been running the VCU campus bookstore for nearly three years, and already had the mechanism and infrastructure in place to produce large quantities of VCU Final Four merchandise on a moment's notice.
"Barnes & Noble was phenomenal in getting us fairly large orders very quickly," said Dan McDonald, assistant director of VCU Business Services.
In a stunning upset over No. 1-ranked Kansas on Sunday, March 27, the Rams punched their tickets to Houston for the Final Four. Soon after, Barnes & Noble began printing 10,000 VCU Final Four shirts in Florida that night and got them on a plane to Norfolk, Va., where they were then transported by truck to the VCU Barnes & Noble bookstore on campus by Monday afternoon.
"No one else in town had shirts available until Thursday," McDonald said. "People were lined up in front of the bookstore to buy shirts. But they didn't just buy Final Four merchandise. They bought anything with VCU on it – bumper stickers, license plate covers and other sweatshirts."
This was after Barnes & Noble had already produced and shipped large quantities of shirts to VCU at every tournament milestone.
"Barnes & Noble built its reputation upon world-class, responsive service. Working with VCU, we were able to generate almost 10 months of revenue in one short month. We gave new meaning to the term March Madness," said Len Scoggins, regional manager, Barnes & Noble College. "It really did take a team of partners to meet the sales demands."
Scoggins said "if win" orders for VCU and other schools with Barnes & Noble bookstores in both the men's and women's NCAA tournaments were being developed simultaneously, which included graphics, quantities and logistics. That meant that within an hour of a team winning, their fans could go online and begin ordering shirts.
"Everyone mobilized to create orders and keep products in the stores. We never wanted the stores to be empty," Scoggins said.
Results
What did Barnes & Noble's excellence in retailing and quick response time mean in terms of dollars and cents for VCU? Plenty. McDonald said that in March 2010, the VCU bookstore sold about $100,000 worth of merchandise. Quickly having tournament merchandise in the store during March Madness 2011 resulted in sales of approximately $1.3 million in just one month.
"With all of the merchandise that Barnes & Noble was able to get in store, we were able to see a lot of school pride," McDonald said. "Everyone was wearing their VCU colors. This was really great for the school, for the city and for our bottom line."
Download a PDF version of this case study