Career Paths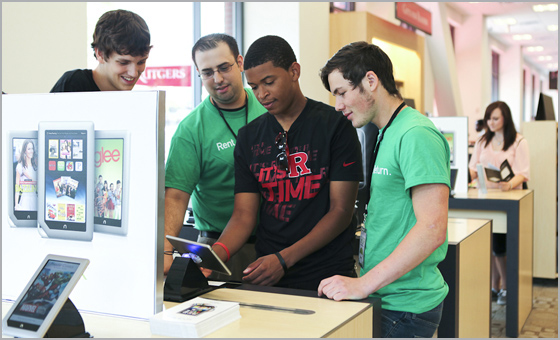 Whether in front of the counter or behind-the-scenes, in-store or online, Barnes & Noble offers unlimited opportunities in many diverse career areas, including:
Store sales
Store management
Store support and operations
Merchandising
Marketing and Communications
Human Resources
Finance
Information technology
Benefits
At Barnes & Noble College, we offer one of the most comprehensive benefits packages in the retail industry. Our wide-ranging benefits include:
Complete health care coverage
Life insurance and disability plans
Paid vacation and holidays
Employee assistance hotline
Counseling resources
Medical and dental insurance
Retirement savings plans
Become part of our team and find out "what's next."
Bestseller Management Program for Students

Through our Bestseller Management Program, we recruit and train talented students and build long-lasting connections within their campus communities. During the 18-25 month course, students get practical, hands-on experience at their campus bookstore and – our favorite part – have the opportunity to interview for a management position within Barnes & Noble.

Higher Ed Focus

We understand the role of bookstores on campus and act as a trusted resource and strong advocate of higher education. We share and support our campus partners' missions to enhance the future of teaching and learning, and we're dedicated to utilizing all our resources, experience and insight to help them succeed.

Retail Excellence

Barnes & Noble built its reputation on world-class customer service and the best collection of products and services. That commitment remains at the heart of our business through revenue-building merchandise strategies that include leading apparel brands, hi-tech gadgets, superior food and beverages, and a wide variety of products students want and need.